Biography/About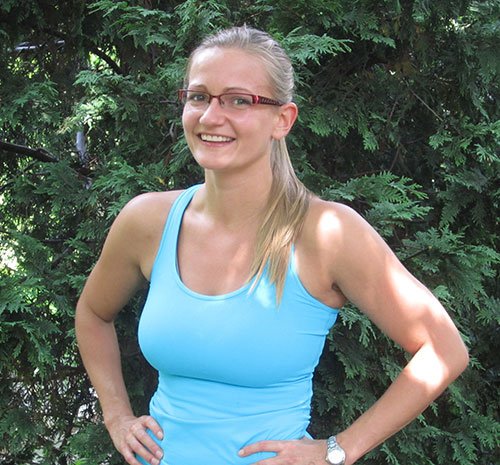 Hi! I'm Jess Spieker, Owner and CEO (that's Chief Exercise Officer, naturally) of Full Swing Fitness. I am a knowledgeable and experienced personal trainer, and I have a long and varied background in fitness which makes me well-suited to work with clients from all fitness backgrounds and all walks of life. I offer personally tailored, safe, fun and effective in-home workouts to my clients in the GTA.
Unlike many personal trainers who have always been fit and athletic, my own fitness journey didn't begin until 2011, when I found myself very overweight and exhausted at the completion of my Master's Degree (in Linguistics, of all things). The person in the mirror just didn't match my image of myself anymore. When I got fed up and decided to fix that problem, it started me down a path that totally changed the course of my life!
First, I began taking strength training classes at my local YMCA, which included the class that I was eventually invited to start instructing and turned out to be my gateway drug: kettlebells. This motivated me to pursue my certifications in group fitness instruction, kettlebell instruction and personal training. Eventually, I decided to quit the PhD I was working on and go into personal training full-time. It was one of the best decisions I ever made!
Talk About Making Lemonade!
Another important piece of my fitness picture developed in May 2015, when I was riding my bike and was t-boned at rather high speed by an inattentive driver making a left turn. In this crash, I sustained a broken spine, a very serious concussion, countless bruises and lacerations and bone contusions, and my left knee and shoulder were both badly injured. In addition, I suffered a DVT and a near-lethal pulmonary embolism. It took over a year of rehabilitation to even approach feeling normal again. I worked hard to regain my previous level of fitness, and I'm proud to say I've come back stronger than ever before!
If you find yourself in a situation similar to mine, dissatisfied with your physical condition or needing to get stronger and recover after an accident, I can help you. I've been there before, and can guide you down the path to reclaiming the person you are inside your head. Give me a call today to set up a free initial consultation!
Top 5 Service Areas
I'm happy to work with you in your home, condo gym, or nearby park, wherever you are in the GTA. Below is a list of the top 5 areas I'm working in.
Leslieville
The Beaches (I know, I know, the 'Beach')
Riverdale
Cabbagetown
Forest Hill
Jessica has helped me make amazing progress and I am so thankful for her positivity and enduring, upbeat and energetic presence. Thank you Jess!
To get started on your road to a healthier life, give me a call at (647) 784-5315 or send me an eMail by clicking here.